Practice Hall Trashed

---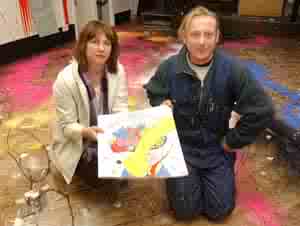 Chippenham Morris' practice hall suffered some mindless vandalism and not by the members themselves.
Practice had to be called off when it was discovered that some children (girls suspected) had climbed through a window of the community hall where they practice and spread the walls and floor with a mixture of paint, flour and cleaning fluids.
The paint came from the toddler and play groups which use the hall. Sadly the children's work was also destroyed by the attack. The attackers seemed to have a vendetta against somebody who uses the hall and the words "bitch I will get you" were written on the floor in paint. It isn't known who the person is. Police have collected fingerprints and DNA to try and identify those responsible.
Meanwhile Chippenham Morris swung into action and with mops, buckets, paint and varnish have restored the community hall to its former splendour. Well probably better than that.
Update: Well so much for today's policing. Wiltshire's finest have been particularly silent, even though a letter was handed in naming those responsible. A letter which can only have been written by someone with inside knowledge as certain unpublished facts were mentioned. Still I am sure the Old Bill have better things to do than actually catch criminals.
Click here to return to news and stories list.