Chippenham Town Morris Men

---

---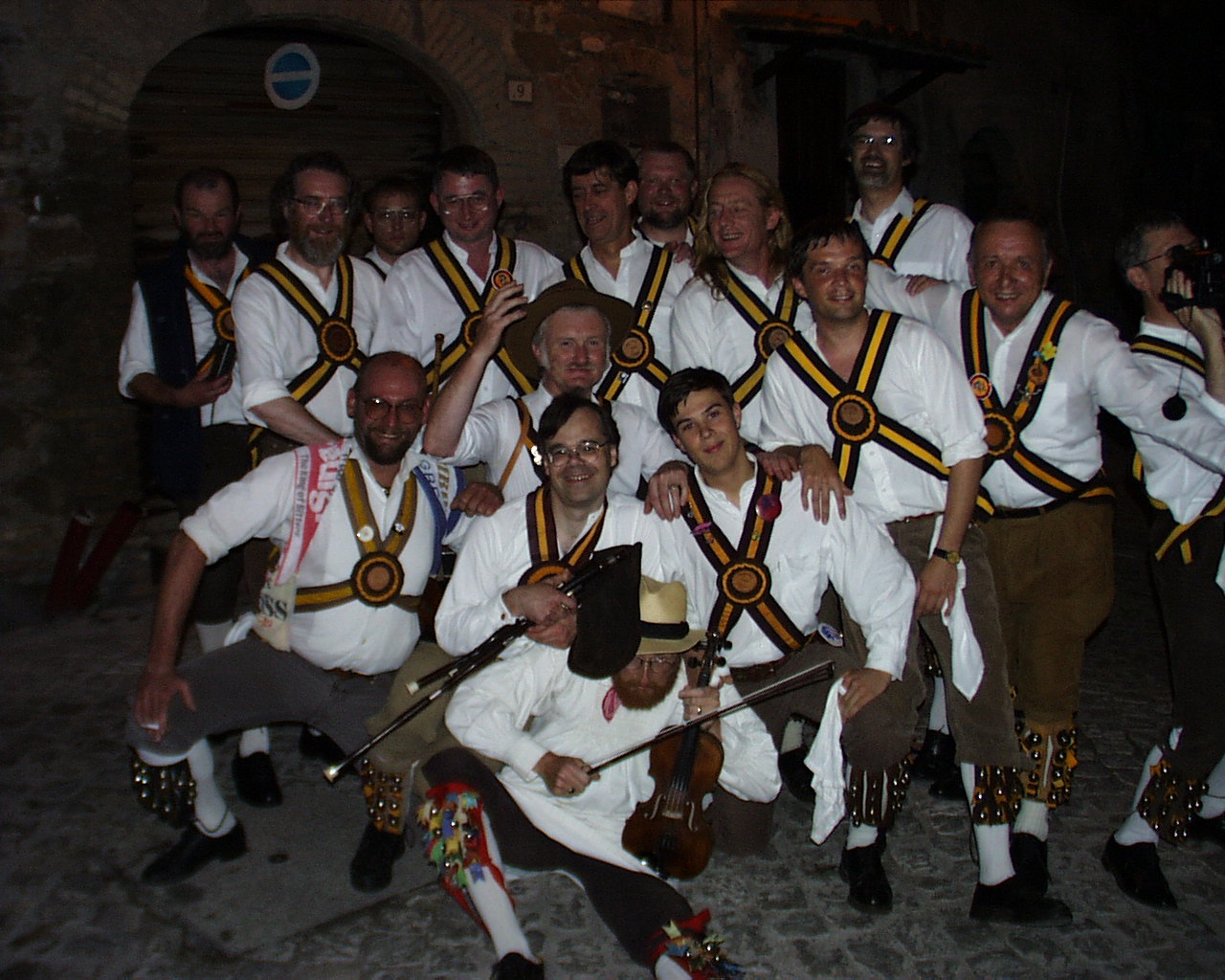 In 1977 our founder, Hans Jensen, he was supplementing his income with sponsorship from a brewer (Carlsberg?) playing his melodeon around pubs in Bristol. One evening he met Betty Reynolds whose husband, Tubby, was a well-known morris dancer who had started or resurrected several morris sides. Hans fell in love with the music and decided that Chippenham should have its own side.
Just before Christmas 1977 he was invited, with his wife, Margaret and Edwin and Margaret Taylor, to have a few drinks at the home of John and Yvonne Coleman where he raised the subject. There was no doubt in his mind that his friends would agree to join him and, probably due to having had one too many, they agreed. A meeting was tentatively arrange in the Rose and Crown, just after Christmas 1977. Attendees were, in addition to the three males at the party, David Coleman, Vince Taylor, Tubby Reynolds, Phil Butler, Keith Hillier, and Chris Hunt. It was agreed to start a side and Tubby and Phil would visit once a week for 6 months to teach us the rudiments of the Cotswold tradition.
The first dance out in kit was outside the Little George in July. With various dance outs and socials thereafter. For one Christmas event Hans wrote "This is the first Christmas we have been together as members of the MORRIS. There will be many, many more." Did he expect there would at least 40 more.
There is no known Morris tradition in Chippenham, though there may have been morris teams in the surrounding villages which have long since died out. Hans and John were married to school teachers, who encouraged some of their pupils to join. Along with some other friends, they made up Chippenham Morris and several are still dancing with us today.
The Morris prospered and added several different Cotswold traditions to their repertoire. In 1987 we were joined by the last four members of Bath Spa Morris when their numbers grew too few to continue. More recently the last of Moonraker Morris have joined us. Numbers have grown over the years and there are now around two dozen dancers and musicians. Click here to see members past and present.
We developed a taste for travel and to date have danced at several international events, several in France, in Rouen, Marseille, Brest and smaller places including Chippenham's twin town La Fleche. They have also danced in Barcelona, Rome, Helsinki, Szeged in Hungary, Ypres, and Roscommon and Derrygonnelly in Ireland.
If you would like to see us dance, check our events page for details of when we are performing.
---