Chippenham Town Morris Men

---

---
Members past and present
Current Members and Occasional Members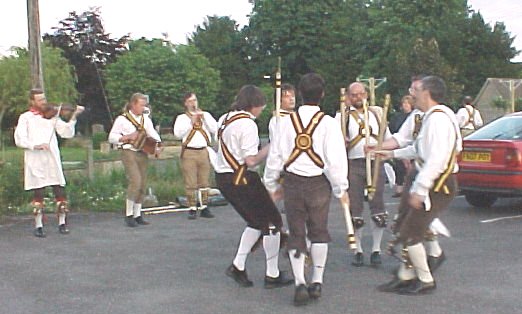 Richard Aylen (The Aylien)
Martin Brown
Pete Causer (Current Squire)
Martin Clancy (ex Bath Spa)
Dave Coleman (founder member)
Will Cook (ex Stroud)
X Dave Field
Sebastian Foxley
Brian German (ex Moonraker)
Brian Gibbs (Frank)
John Holmes
Torquil MacInnes
Jonathan Munton
Duncan Pearce (returned after 27 years)
Paul Pharro
Alistair Sinclair (ex Moonraker)
Dick Stanger
Nigel Strange
Brian Tilley
Keith Vaughan
Glenn Wardle
Richard Wells (Richard III)


Past Members in no particular order
Hans Jensen (Founder & first Squire) - John Coleman (founder member) - John Webb (Webbie, 2nd Squire) - John Rawles (Squire twice) - Callum MacInnes - Christian Wilson - Valentino Legumi - Dennis Brown (Den 2) - John Thurston - Mike Evans (one time squire) - Steve Mills (ex Bath Spa) - Andy Gifford - Pete Webb (pedro) - Ian Mills (founder member) - Victor Humphrey (ex Bath Spa) - James Armstrong (Rusty) - Daniel Lakey (Captain Supernoodle) - Dave Beck (went to Isca Morris) - John Nourse - Nick Nourse (John's son) - Fred Gillam (Frodo) - Mike Eaton - Ed Gillams - Phil Jones - Alan Harrison - Chris Bailey - Adam Drake-Brockman - Lawrence Pratchett - Paul Ormiston - Paul Davies (Zippy) - Robin Packer - Mark Packer (Robin's brother) - Edwin Taylor - Vince Taylor (Edwin's son) - Mike Hunt - Chris Hunt (Mike's brother) - Roger Colton - Mike Riley (ex Bath Spa) - Allan Clyde (Bonnie) - Malcolm Jones (Malcomo Esperanto) - Clive Bashford - Andrew Bashford (Clive's son) - Graham Haddrell (Godfrey) - Malcolm Cowan (Aussie) - Christian Raymond (Andy Gifford's step son) - Jim Cook - Mick Cook (no relation to Jim or Will) - Robin Cook (Mick's son, not the late politician) - Ian Prangley - John Morgan Jones (JMJ) - Mike Slater - Tim Down - Denis Mills (Den 1) - Sid Hemsley (Hissing Sid) - Graham Nichols (Profs Potts) - Martin Searle (Doc Martin) - Bob Williams (went to USA) - David Williams (Bob's son) - Paul Read (went to Hong Kong/Cardiff) - Bruce Johnston-Lowe (Mr Chips) - Matthew Pharro (Paul's son)
Peter Contrastano (he tried to change us) - Keith Hillier (Clanger) - Dave Bainbridge - Dave Scollen - Colin Burge - Stan Toombs - Desmond Hawkins - Michael Diprose - Andrew Caunce - Kevin Hale - Martin Clapton - Robert Pope - Russ Needham - Steve Wharton - Mark Hathaway - John Chandler - Chris Rowney - John Teller - Tom Liston - David Harris - Steve Hill - John Bartholomew - Colin Testa - Chris Tarbitten - Mark Stearn -

Female Participants
Hazel Stanger (concertina) - Suzanne Bashford (accordeon) - Hilary Rawles (violin) - Jan Field (melodeon & Le Puy trip) - Alison Evans (melodeon York Trip) -

Occasional Participants
Phil Butler (Early dance tutor) - Frank Bradley (La Fleche Trip and occasional fiddle) - Paul Nye (part time in Brest, La Fleche and Suce) - Ian Wheeler (Marseille trip) - Jeff Brown (whistle) - Dave Lee (concertina) - Ted ? (Ouessant trip clown) - Honourable mention to Mr & Mrs Gilman who attend more of our dance outs than most of the members.

Click here to go back to the history page.
---