NEWS - Morris Dancer David Coleman goes round the world

---
---
Founder member and one of our best dancers (when he turns up), Dave Coleman left for a free form visit round the world having saved up for the trip of a lifetime - let's face it, after working for Wilts CC and Oxford CC he probably deserved it.
Departure February 2001, at first Athens, Cairo, Alexandria and Luxor visited, then a stop at Crete, a month or so in Nepal (no responsibility for the regicide - honest), at the start of June he went off to Thailand and by early July he went to Cambodia. Next up was Vietnam and he spent a month or two between several of these Far East countries. More of Thailand and Malaysia before Dave returned in time for the Dumb Post Christmas Dance Out.
If you want to find out about how the dog pate tasted, how a mugger arranged for his mates to give Dave a lift back to his hotel or any of the other exciting adventures try contacting him at daviddcoleman@hotmail.com before he sets off again later this year. One of the highlights of his trip must be this "first".
DANCING ON THE ROOF OF THE WORLD
On 11th May 2001 David Coleman of Chippenham Town Morris Men danced a solo jig at the Nepalese village of Gorak Shep, just below the western flank of Mt. Everest and a short distance from the Everest Base Camp. The jig, danced at an altitude of 5100m is likely to be the highest ever performed on the grounds that Cotswold Morris Dancing is not widely practiced in Nepal !
In celebration of his reaching the Roof of the World, David composed his own jig using steps from the Bledington village tradition. He sends his best regards to his fellow dancers at Chippenham Morris and to the staff and regulars of the Old Road Tavern, Chippenham, where the Morris Men drink every Wednesday after practice.
A photo of David's unusual achievement is on its way to the Side and will no doubt find its way onto the pub's wall where other Chippenham Morris escapades are recorded.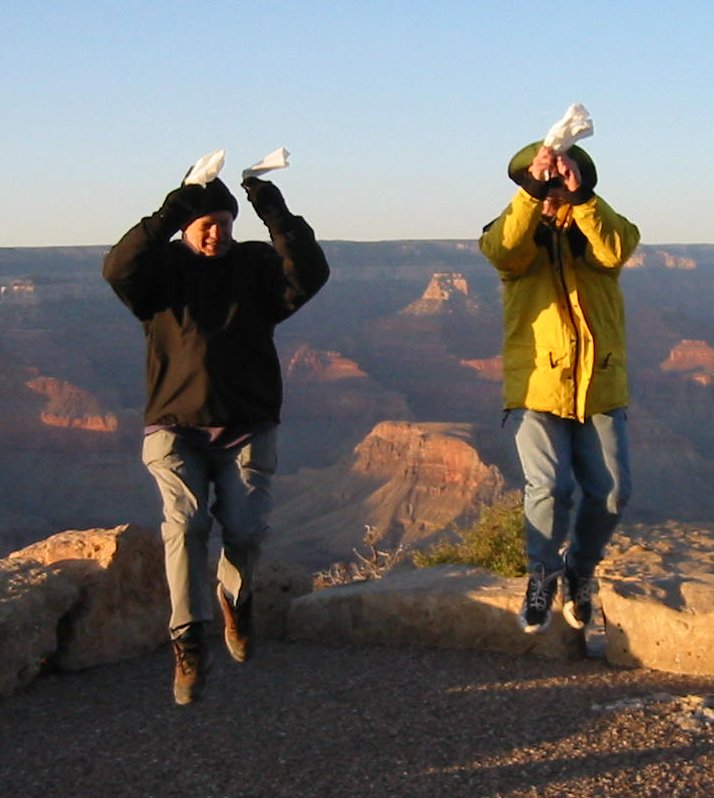 Said Dave, "I bloody did it but God was it hard work in the thin air ! Oh yes-I also did a jig at my lodge in Thado Koshi on May 1st to show solidarity with you all. Amused the Hell out of the watching Sherpas !"
This attitude to Morris Dancing seems to run in the family. Here we see Coleman senior and Coleman junior, dancing at the Grand Canyon on a recent US trip.
End of August and he's had enough he headed back to Thailand but has returned to gather resources before doing the New York marathon. Rumour is that he heard there was free beer at the AGM and that's why he came back.
Click here to return to news and stories list.