Chippenham Town Morris Men News & Stories

---
---
A very hot festival in Marseille.
We are filmed for a SKY TV programme.
We appear in a Russian newspaper.
The first morrisogram in Royal Wootton Bassett.
Why thousands of German people know Chippenham Morris.
Chippenham Morris dance in Barcelona and make it onto YouTube.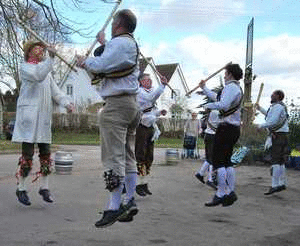 Chippenham Morris celebrate thirty years with some friends.
School named after founder member Hans Jensen.
Daniel dances in North Korea First man ever to do so?
Chippenham Morris dance on Channel 4 TV programme The Farm.
Practice Hall gets trashed.
Off to the Artic to dance! Pictures from Finland.
Chippenham Morris fool the Chippenham Folk Festival with Hungarian dance troupe scam.
Government legislation. amended to exclude Morris Dancing.
Our Building Society, The Portman, tries to screw us.
Chippenham Morris Men are 25 years old.
Chippenham Morris dance by the seaside with hosts Ditchling Morris.
Dave Coleman goes round the world.
Death of a much loved member Valentino Legumi.
Terry Pratchett presents us with the Golden Bucket.